Programs
Potent, powerful and proven. Let's awaken your creative genius!
Awake at Work programs develop mindfulness-based capacities that create a culture of creative genius – where productivity, creativity, collaboration, engagement and well-being are the norm, not the exception. Our programs teach the essential skills and facilitate experiences for sustained awareness and powerful behavior changes.
We offer 3 programs for individuals, leaders and teams.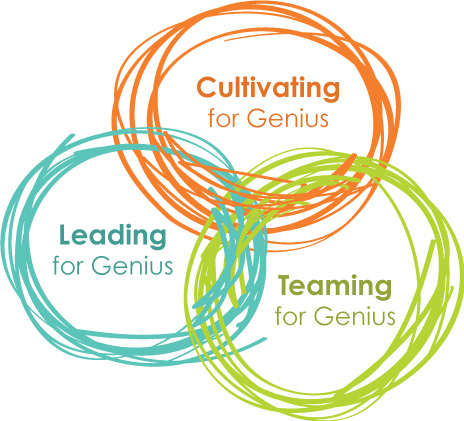 The programs focus around three key inquiries, which we refer to as our Genius Rx:
What genius wants to emerge?
What is in the way?
What is the breakthrough experience?
Cultivating for Genius
A 9-week mindfulness-based program to awaken innate potential and inspire a culture of engagement and excellence.  
Session One: Mindfulness and the Neuroscience of Change

Session Two: Creating Excellence Through Intention

Session Three: Building Present Moment Awareness

Session Four: Cultivating Emotional Intelligence

Session Five: Applying Relational Intelligence

Session Six: Uncovering Creativity with Risk-Taking and Vulnerability

Session Seven: Leading from the Emerging Future with Dynamic Innovation

Session Eight: Awakening Genius and Realizing Our Potential

Session Nine: Sharing Our Stories and Integrating Our Learning
"Imagine this truth, that 8 billion flavors of human genius are on this planet…We live in a brilliant universe, surrounded by genius."
Anakha Coman
Leading for Genius
A mindfulness-based program for awakening and expressing your leadership presence and igniting the innate potential and collective genius in others. Leaders develop essential capacities in connection with their own and their organization's strategic intentions to reach the highest potential in themselves, their team and their organizations.
"An awakened leader is committed to raising all people to their highest potential and creates a mutual field of possibility and upliftment. This field is a mutual field of presence and at its core lives the fire of awakening itself."
Anakha Coman
Teaming for Genius
Designed for innovative teams, the program creates a culture of transformation. The team discovers their collective genius, transforms the interference that is blocking its full expression and initiates an ongoing journey of activating and expressing their true potential. Instead of a new technique or skill we invite people into a new way of being and relating with one another that is focused on growth and change. Work becomes the place and space where creative genius unfolds. Imagine what will happen when you have a whole connected team of creative brilliance working cooperatively in service to each person and the greater mission!
"It is the loss of our individual and collective genius that once remembered restores these profound and vital connections and brings us out of our quiet despair into an exuberant joy of being alive and creating in our genius together."
Anakha Coman
Coaching for Genius
Our expert coaches bring precise insights and skillful reflections that catalyze movement towards revealing and realizing your unique creative genius. We work with individuals, leaders and teams who want additional focus and support.